Fire Burn Pot and Hot Rod Ignitor Combo Kit Replacement Parts for Pit Boss and Traeger Pellet Grill with Screws and Fuse
productsweb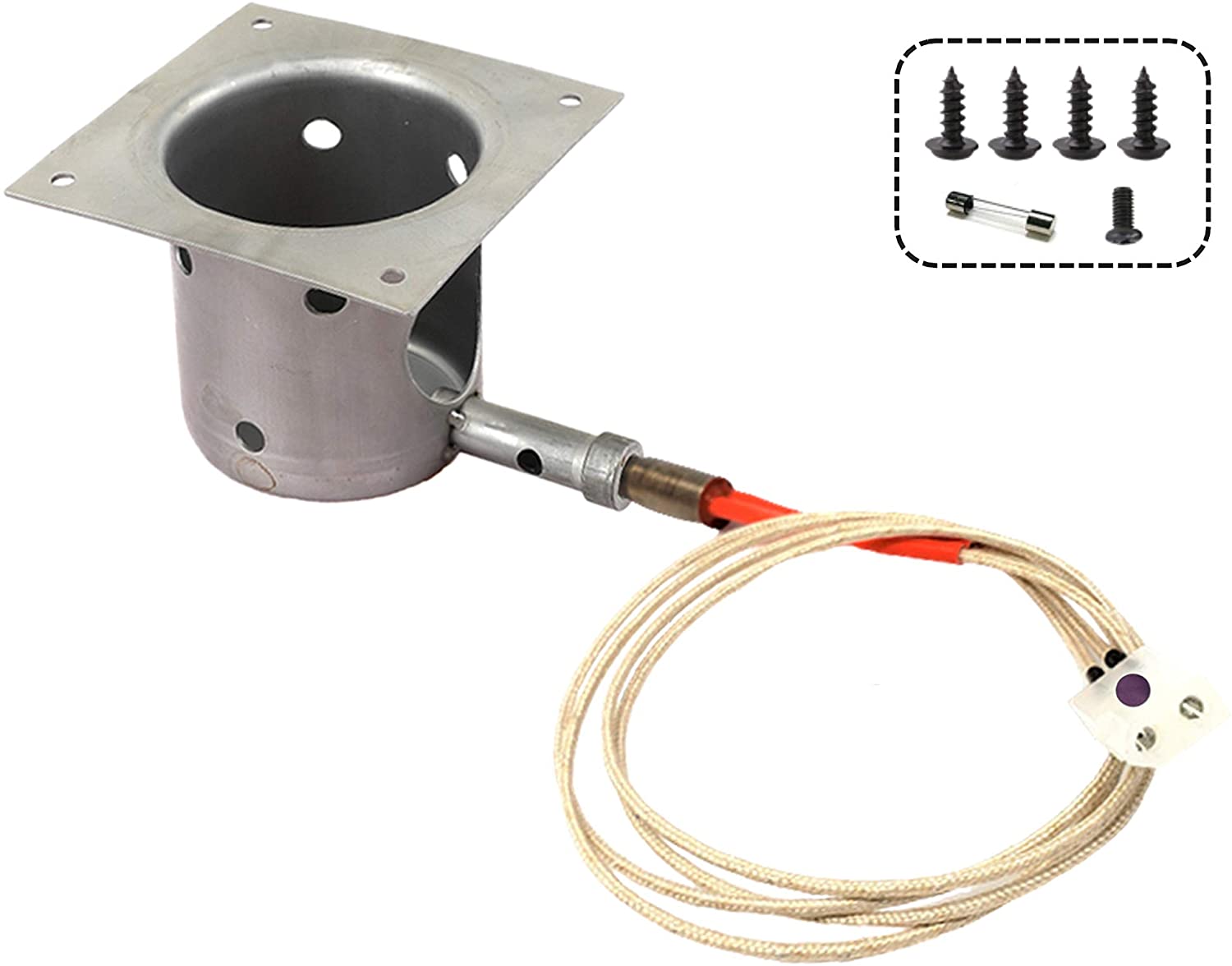 Fire Burn Pot and Hot Rod Ignitor Combo Kit Replacement Parts for Pit Boss and Traeger Pellet Grill with Screws and Fuse
---
Details
Fire Burn Pot and Hot Rod Igniter Combo Kit Replacement Parts for Pit Boss and Traeger Wood Pellet Fired Smoker & Grills with AC powered :
Fit for Traeger model: Bronson 20,Double Commercial,Eastwood 22,Heartland,Junior Elite 20,Large Commercial,Lil' Pig,Lil' Tex Elite 22,Lonestar 20,Longhorn Steer,Pro 20,Pro Series 22,Pro Series 34,Renegade Elite 20,Renegade Pro,Select Elite,Select Pro,Silverton,Tailgater 20,Texas Elite 34,Texas Pro,Timberline 1300 AC,Timberline 850 AC,XL.
Fit for Pit Boss model: 1000 Nascar Edition,1000 Traditions,1000 Traditions 2,1000SC,340,440 Deluxe,440 Nascar Edition,440TG1,700 Nascar Edition,700D,700FB,700S,700SC,820 Deluxe,820FB,820FBC,820S,820SC,Austin XL,Classic,Pro Series 1100-PS1 (Lowes),Pro Series 820-PS1 (Lowes),Ranch Hand,Rancher,Rancher XL,Tailgater

Package Includes:
1 Fire Burn Pot&1 Igniter/Hot Rod&1 set of screws.

Enjoy Your Better BBQ life:
Hot Rod:Made of high density cartridge heating element, 200W/120V wire lead for longer service life.
Fire Pot:Made of high strength steel to ensure long-lasting use, more substantial and durable.Dimension: 5" x 3 1/2" x 3 3/4", 7 Large Air Holes, 14 Gauge Steel Wall.
※Smoothly
Ignites the hardwood, making starting your grill as simple as flipping a switch, have a better grilling experience.Burning wood in this fir burn pot will be more efficient because of the air vent design, the hot igniter rod goes into the base of the fire pot for a quick connection, reigniting your grill will be as simple as flipping a switch.
※Easy to Install
Plug and play, take only about 10 minutes to replace.you also can check the correct installation video online.
※Installation Tips
For Best Performance, Set the new Hot Rod to protrude 1/8 to 1/4 inch into the fire pot When your current hot rod shortens or burns out, this replacement part will ensure that your grill continues to operate like new again.